Elite Vienna & SOM Shadow Magic Soft Horizontal Sheer Shades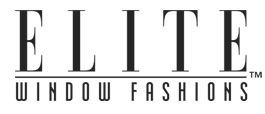 Soft Horizontal Sheer Shades are a beautifully elegant, light, and sophisticated window treatment. The fabric vanes float between two graceful sheer layers, a combination that provides you with absolute control over privacy and light. Integrating the soft sheerness of a shade and the functional control of a horizontal blind, vanes can be rotated, permitting a veiled view of the outdoors and a soft flow of light indoors. When closed fully, Sheer Horizontal Shades become completely opaque creating total privacy and security. Soft Horizontal Sheer Shades are suitable for any type of room and living space. Whether it is modern, contemporary or country, these shadings will add beauty and sophistication to your home.
Soft Horizontal Sheer Shades can be ordered in three distinct vane sizes in either light filtering or room darkening fabrics:
2", 2 ½" and 3" vanes.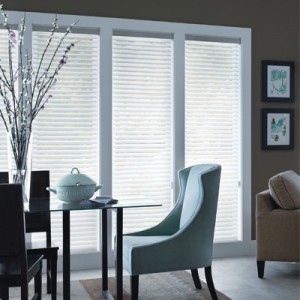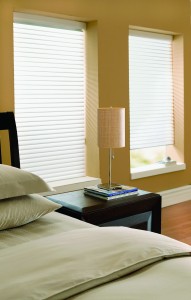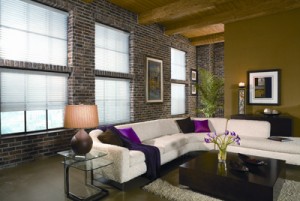 KEY FEATURES
Seamless beauty, shades cover large window without any seams.
Choose from either soft neutral tones or dark bold colours, in fabrics that are light filtering for elegant privacy without total darkness, or room darkening patterns for greater privacy.
Available in a choice of 2", 2 ½" and 3" vanes.
Fabrics are anti-static, dust and stain resistant.
The unique aluminum cassette design creates a very smooth and elegant self-valance. When the shade raises, it disappears inside the cassette.
Continuous Cord Loop System – This easy to operate system lifts the shade and stops it exactly where you want it to.
Cord tensioner keeps cords taut and away from children to keep your family safe. A Child Safety Feature.
Universal snap-in brackets for easy installation.
Energy Efficient – Soft Horizontal Shades maximize your view, but protect against 99% of harmful UV rays when vanes are closed and up to 88% when tilted open.
Environmentally Friendly – All of our Elite Vienna Soft Horizontal Sheer Shade fabrics are GreenGuard Certified.
Shadow Magic Shades – many of the fabrics are part of GreenProtect™ program.
Motorization is available.
Colour SamplesOrder FormCleaning Instructions
Colour Samples: Soft Horizontal Sheer Shades

214
Quartz LF

232
Mushroom LF

234
Cameo LF

235
Topaz LF

245
Silver LF

295
Platinum LF

313
Winter White LF

321
Cream LF

322
Ivory LF

345
Grey Pearl LF

350
Cloud LF

351
Glacier LF

352
Cream LF

353
Marshmallow LF

711
Winter White RD

723
Ivory RD

734
Desert Tan RD

745
Grey RD

750
Swan RD

751
Fawn RD

1000
Snow LF

1001
Pearl LF

1002
Stucco LF

1004
Wheat LF

1006
Parchment LF

1008
Champagne LF

1016
Pumice LF

1017
Goldenrod LF

1019
Mocha LF

1029
Honey LF

1055
Glacier LF

1056
Pebblestone LF

1058
Pearl Grey LF

1064
Natural LF

1069
Cocoa_Bean LF

1100
Aspen LF

1101
Creme LF

1108
Marshmallow LF

1118
Khaki LF

1200
Cumulous LF

1206
Breeze LF

1208
Feather LF

1216
Delicate LF

2100
Arctic Ice RD

2200
Eggshell RD

2300
Dawn RD

2400
Cream RD

2500
Moondance RD

3019
Latte LF

3069
Chocolate LF

3099
Black LF

4201
Alpine White

4203
Biscuit

4204
Cream

4222
Golden Tan

4226
Portabello

6201
Alpine White

6203
Biscuit

6204
Cream

6222
Golden Tan

6226
Portabello

1000
Snow LF

1001
Pearl LF

1002
Stucco LF

1008
Champagne LF

1016
Pumice LF

1017
Goldenrod LF

1019
Mocha LF

1069
Cocoa Bean LF

1200
Cumulous LF

1206
Breeze LF

1208
Feather LF

1216
Delicate LF

2100
Arctic Ice RD

2200
Eggshell RD

2400
Cream RD

3019
Latte LF

3069
Chocolate LF

3099
Black LF

32017
Goldenrod RD

32069
Cocoa Bean RD

34069
Chocolate RD

34099
Onyx RD
Shade-O-Matic Shadow Magic

45-10-1216
Glimpse Beachwood

45-10-1206
Glimpse Cloud

45-10-1208
Glimpse Linen

45-10-1108
Panoramic Canvas

45-10-1101
Panoramic Ice

45-10-1100
Panoramic Snow

45-10-2100
Pristine Articice

45-10-2400
Pristine Cream

45-10-2300
Pristine Dawn

45-10-2600
Pristine Dune

45-10-2200
Pristine Eggshell

45-10-2500
Pristine Pebble

45-20-3017
Scenic Clarion

45-20-3019
Scenic Fawn

45-20-3069
Scenic Java

45-20-3001
Scenic Pearl

45-20-3099
Scenic Raven

45-20-3016
Scenic Sand

45-10-1008
Tropical Champagne

1004
Tropical Desert

1006
Tropical Dove

45-10-1058
Tropical Fog

1002
Tropical Hazelnut

45-10-3001
Tropical Ivory

1045
Tropical Meadow

45-10-1099
Tropical Onyx

1000
Tropical Powder

45-10-1065
Tropical Rosemary

1016
Tropical Sand

45-10-1069
Tropical Shadow

45-10-1019
Tropical Silver

45-10-1064
Tropical Sterling

1001
Tropical Vellum

45-13-226
Edenmore Bisque

45-13-209
Edenmore Camel

45-13-213
Edenmore Canvas

45-13-205
Edenmore Oatmeal

45-13-203
Edenmore Parchment

45-13-201
Edenmore Quartz

45-19-204
Ellesmere Bone

45-19-203
Ellesmere Desert

45-19-226
Ellesmere Drift Wood

45-19-222
Ellesmere PebbleStone

45-19-201
Ellesmere Porcelain

45-14-201
Galleria Cotton

45-14-213
Galleria Cream

45-14-203
Galleria Fawn

45-14-226
Galleria Foliage

45-14-220
Galleria Mocha

45-14-204
Galleria Oatmeal

45-14-222
Galleria Taupe

45-14-205
Galleria Topaz

45-14-219
Galleria Woodland

45-15-205
Impose Buttercup

45-15-221
Impose Clay

45-15-203
Impose Rye

45-15-219
Impose Sage

45-15-204
Impose Sand

45-15-201
Impose Snow

45-16-205
Tonner Custard

45-16-201
Tonner Glacier

45-16-226
Tonner Greige

45-16-204
Tonner Ivory

45-16-222
Tonner Malt

45-16-203
Tonner Parchment

45-10-203
Waterfall Beige Glow

45-10-214
Waterfall Butter Nut

45-10-213
WaterFall Porcelain

45-10-218
Waterfall Powder

45-10-207
Waterfal Sand Dunes

45-10-201
WaterFall Snow Cap

45-10-202
Waterfall Sun Dream

45-10-226
Waterfall Tan

45-10-210
Waterfall White Satin

45-10-32300
Dashing Cameo

45-10-3210
Dashing Cotton

45-10-3220
Dashing Glaze

45-10-3209
Dashing Onyx

45-10-3240
Dashing Oyster

45-10-3201
Dashing Parfait

45-10-3206
Dashing Shadow

45-10-32500
Dashing Stucco

45-10-32600
Dashing Vanilla

45-10-3121
Indulge Beachwood

45-10-3102
Indulge Cloud

45-10-3120
Indulge Linen

45-18-33017
Magnificent Clarion

45-18-33019
Magnificent Fawn

45-18-33069
Magnificent Java

45-18-33001
Magnificent Pearl

45-18-33099
Magnificent Raven

45-18-33016
Magnificent Sand

45-17-34017
Perception Clarion

45-17-34069
Perception Java

45-17-34099
Perception Raven

45-10-3109
Serendipity Bisque

45-10-3002
Serendipity Caraway

45-10-3000
Serendipity Glacier

45-10-3101
Serendipity Opal

45-10-3169
Serendipity Shadow

45-10-3119
Serendipity Silver