Honeycomb Cellular Shades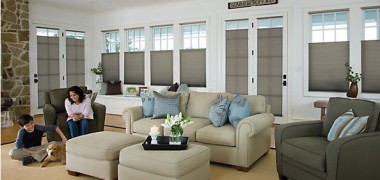 Honeycomb Cellular Shades offer maximum versatility, with a rich selection of colours, textures and specialty options. An inspired solution for every room and décor.
Honeycomb Cellular Shades deliver great window insulation and protection from UV rays.
Attractive by design yet functional, the Accordia shape creates a pocket that acts as an air barrier to help insulate your windows and reduce your energy bills.
Light Filtering Cellular Shade fabrics soften incoming light to create a perfect ambiance while providing heat control and privacy.
Room Darkening Cellular Shade fabrics provide the best heat and light control, so your room will stay dark even in the middle of a bright sunny day.
Cellular Shades are available with a wide selection of specialty options.
Achieve complete light and privacy control by customizing Accordia™ Custom Cellular Shades with one of  innovative options.
We offer a wide variety of Honeycomb Cellular Shade fabrics to meet your design and enhance any décor: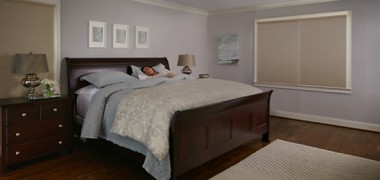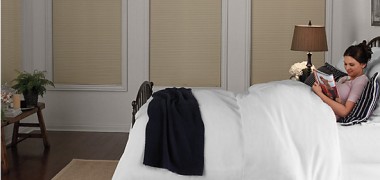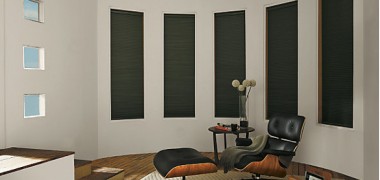 Linen fabrics
Exclusive to Honeycomb Cellular Shades Collection, Linen fabric elevates both casual and formal rooms with a refined, yet subtle elegance. Uniquely woven fabric expresses a clean, sophisticated texture.
Linen texture with warm colours, add a contemporary style that is perfect for everyday living. Available with Light Filtering and Room Darkening fabrics.
Translucence fabrics – Light Filtering
Luxuries,  offers a new take on traditional elegance. With a whispery texture and a distinctive sheen, Cellular Shade Translucence fabrics let light softly enter your room and express pure elegance. Available with Light Filtering fabrics
Seclusions fabrics
Seclusions Honeycomb Cellular Shades fabrics are characterized by sophisticated subtle textures.
Available with Light Filtering and Room Darkening fabrics.
Designer Textures Light Filtering
This exclusive to Honeycomb Cellular Shades woven fabric is considered one of the premiere fabrics.
It retains its visually appealing texture and rich colours even during sun exposure.
Crispier pleats hold their edge and maintain fresh clean look.
Designer Textures – Room Darkening
Experience the upscale excellence of the Designer Textures Room Darkening Cellular Shade Collection. This fabric keeps out almost all incoming light, eliminates glare while keeping room cooler during hot summer day and warmer during winter.
This beautiful collection of woven room darkening fabrics boasts a wide variety of colours that will easily coordinate with any décor.
Designer Colours Light Filtering
Delight in a variety of colours from soft, crisp neutrals to bold, rich tones of the Designer Colours Collection.
This energy efficient fabric saves you money while needing minimal cleaning and care, thanks to the benefit of  Dustguard.
This beautiful fabric is available in single and double cell Light Filtering.
Designer Colours – Room Darkening
This collection of Cellular Shade Room Darkening fabrics provides optimum privacy and heat control.
Added benefit of  Dustguard will protect your shade and keep it looking new for years to come.
Classic
This Cellular Shade collection delivers reliable quality at an economical price. This durable, fade resistant fabric we recommend for less visible areas of your house like bathrooms, laundry room, basement etc. Available with Light Filtering and Room Darkening fabrics.
Heathered and Tree Bark
This is the latest addition to Honeycomb Cellular Shades collection of fabrics. They are characterized by modern, sophisticated textures and colours
Both, Heathered & Tree Bark are available with Light Filtering or Room Darkening option.
Colour SamplesOrder FormCleaning Instructions
Colour Samples: Levolor Cellular Shades
Due to variations in computer monitors, we cannot guarantee the accuracy of colours presented on-screen with actual products.

19570101
Whisper

19570199
Snow

19570343
Light Grey

19570202
Cream

19570105
Candlelight

19570108
Tumbleweed

19570247
Sand

19570216
Toffee

53470147
Black

53470105
Candlelight

53470144
Chili Spice

53470202
Cream

53470104
Daylight

53480804
Espresso

53470345
Graphite

53470334
Lt. Olive

53470110
Mink

53470152
Mocha

53470135
Navy

53470141
Ocean

53470346
Plum

53470803
Sage

53470247
Sand

53470800
Slate

53470199
Snow

53470216
Toffee

53470108
Tumbleweed

53470101
Whisper

19470199
Snow

19470101
Whisper

19470345
Graphite

19470141
Ocean

19470337
Marine

19470135
Navy

19470147
Black

19470104
Daylight

19470202
Cream

19470105
Candlelight

19470108
Tumbleweed

19470247
Sand

19470110
Mink

19470216
Toffee

19470152
Mocha

19470800
Slate

19480804
Espresso

194YW001
Buttercream

19470332
Wheat

19470331
Raffia

194RE002
Cherry Blossom

19470342
Cayenne

19470144
Chili Spice

19470801
Sangria

19470136
Lavender

19470346
Plum

19470146
Merlot

19470336
Aqua

19470803
Sage

19470334
Lt. Olive

12470101
Whisper

12470105
Candlelight

12470108
Tumbleweed

12470110
Mink

12470199
Snow

12470202
Cream

12470216
Toffee

12470247
Sand

12470345
Graphite

12470800
Slate

19370101
Whisper

19370104
Daylight

19370110
Mink

19370331
Raffia

19370147
Black

19370199
Snow

19370216
Toffee

19370247
Sand

19370333
Fresh Green

19370336
Aqua

19370337
Marine

19370342
Cayenne

19370343
Light Grey

19370345
Graphite

19370800
Slate

19370801
Sangria

19380804
Espresso

193GE001
Bay Leaf

193PU001
Amethyst

19170105
Candlelight

19170110
Mink

19170202
Cream

19170216
Toffee

19170247
Sand

19170334
Lt. Olive

19170343
Light Grey

19170800
Slate

19BMT014
Bay Leaf

19BMT015
Cream

19BMT016
Graphite

19BMT017
Sage

19BMT018
Sand

19BMT019
Slate

19BMT020
Toffee

19BMT021
Whisper

19C70199
Snow

19C70202
Cream

19C70216
Toffee

19C70247
Sand

19C70331
Raffia

19C70334
Lt. Olive

19CGY008
Light Fog

19CPU001
Amethyst

19AMT022
Bay Leaf

19AMT023
Biscuit

19AMT024
Graphite

19AMT025
Mocha

19AMT026
Navy

19AMT027
Sage

19AMT028
White

19AMT029
Wheat

19270105
Candlelight

19270110
Mink

19270199
Snow

19270202
Cream

19270247
Sand

19270332
Wheat

19070101
Whisper

19070105
Candlelight

19070108
Tumbleweed

19070199
Snow

19070202
Cream

19070216
Toffee

19070247
Sand

19070343
Light Grey

53970147
Black

53970105
Candlelight

53970144
Chili Spice

53970202
Cream

53970104
Daylight

53980804
Espresso

53970345
Graphite

53970334
Lt. Olive

53970110
Mink

53970152
Mocha

53970135
Navy

53970141
Ocean

53970346
Plum

53970803
Sage

53970247
Sand

53970800
Slate

53970199
Snow

53970216
Toffee

53970108
Tumbleweed

53970101
Whisper

19970336
Aqua

19970147
Black

199YW001
Buttercream

19970105
Candlelight

19970342
Cayenne

199RE002
Cherry Blossom

19970144
Chili Spice

19970202
Cream

19970104
Daylight

19980804
Espresso

19970345
Graphite

19970136
Lavender

19970334
Lt. Olive

19970337
Marine

19970146
Merlot

19970110
Mink

19970152
Mocha

19970135
Navy

19970141
Ocean

19970346
Plum

19970331
Raffia

19970803
Sage

19970247
Sand

19970801
Sangria

19970800
Slate

19970199
Snow

19970216
Toffee

19970108
Tumbleweed

19970332
Wheat

19970101
Whisper

19870101
Whisper

19870104
Daylight

19870110
Mink

19870331
Raffia

19870147
Black

19870199
Snow

19870216
Toffee

19870247
Sand

19870333
Fresh Green

19870336
Aqua

19870337
Marine

19870342
Cayenne

19870343
Light Grey

19870345
Graphite

19870800
Slate

19870801
Sangria

19880804
Espresso

198GE001
Bay Leaf

198PU001
Amethyst

19770105
Candlelight

19770110
Mink

19770202
Cream

19770216
Toffee

19770247
Sand

19770334
Lt. Olive

19770343
Light Grey

19770800
Slate

19GMT014
Bay Leaf

19GMT015
Cream

19GMT016
Graphite

19GMT017
Sage

19GMT018
Sand

19GMT019
Slate

19GMT020
Toffee

19GMT021
Whisper

19H70199
Snow

19H70202
Cream

19H70216
Toffee

19H70247
Sand

19H70331
Raffia

19H70334
Lt. Olive