High-Lite Shades
Elite High-Lite Shade is a revolutionary shade that adds style and personality to your home.
The remarkable stylish and modern look combined with versatility will make a perfect fit for your décor.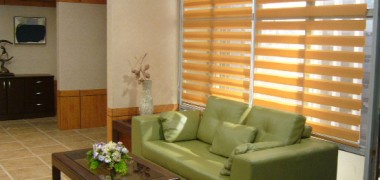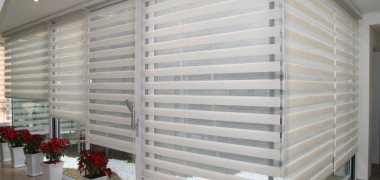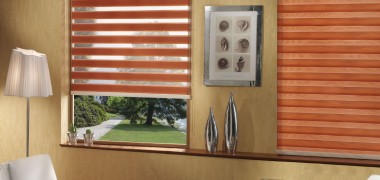 Elite High-Lite Shade fabric offers UV protection and heat control while preserving your privacy.
Control options give you many different ways to enjoy this shade. Stagger the opaque bands of fabric to enjoy complete privacy; line them up to take in the outdoor view; or raise the shade completely.
e-Power Automation is available for High-Lite shades.
The unique rolling bottom rail mechanism provides smooth and effective operation, allowing you to roll your High-Lite Shades up or down to any desired position. When rolled all the way up, the shade is concealed within a curved cassette for a clean look.
The High-Lite Shade collection boasts a vast array of elegant fabrics. For a uniform look, you can match the colour of the fascia to the shade, or wrap the fascia in the shade's fabric.
Colour SamplesOrder FormCleaning Instructions
Color Samples: High-Lite Shades
3" Band

Basic Chocolate

Basic Ice

Basic Ivory

Basic White

Jewel Pearl

Jewel Platinum

Jewel Topaz

Linen Ivory

Linen White

Nature Brown

Nature Cherry

Nature Chocolate

Nature Ivory

Nature Khaki

Nature White

Radiance Pearl

Radiance Silver

Radiance Topaz

Radiance White

Romance Dove

Romance Honey

Romance Neutral

Romance Ruby

Romance Snow

Seashore Beach

Seashore Earth

Seashore Pebble

Seashore Sand

Seashore Shell

Sterling Beige

Sterling Chocolate

Sterling Ivory

Sterling White
5" Band

Sterling White

Sterling Ivory

Sterling Chocolate

Sterling Beige

Seashore Shell

Seashore Sand

Seashore Pebble

Seashore Earth

Seashore Beach

Radiance White

Radiance Topaz

Radiance Silver

Radiance Pearl