Levolor Roman Shades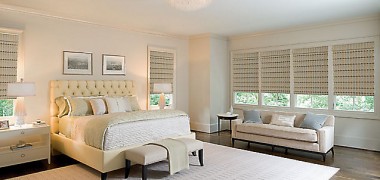 Levolor Roman Shades feature an unsurpassed palette of fashionable colours, patterns and textures designed to coordinate easily with your home's décor.
Levolor Roman Shades provide the ultimate in privacy and light control with the widest selection of Room Darkening and Light Filtering options.
For a clean look and enhanced safety for children and pets, try cordless control option.
Levolor Roman Shades are available in two styles: Flat and Hobbled.
The Flat Roman style provides a contemporary look with clean modern lines.
The soft folds of the Hobbled Roman style offer a classic, timeless look for a more traditional style.
All colours can be ordered in Flat or Hobbled styles.
Lift options
Levolor roman shades come standard with lift cords. Cordless lift system and top down/bottom up are upgrades exclusive to Levolor.

Cordless lift system
Gives your window a clean, finished profile without dangling lift cords
Simply pull up on the handle to open, or push down to close with little effort
Improved safety for homes with children and pets

Top down/Bottom up
Control the light at different levels with traditional lift cords
Lower your shades from the top, from the bottom, or from both
Offered in narrower widths and longer lengths – a great solution for specialty windows

Continuous cordloop
Eliminates dangling or puddling of cords on the floor
Keeps the cord at the same length regardless of the shade position
Raise or lower even the widest and heaviest shades with little effort
Valances
Levolor Roman Shades come standard with a sleek metal Integrated Valance in colours that coordinate to the shade fabric.
Integrated Valance. Offers a clean look & coordinates with the shade fabric
Classic Valance offers a more traditional and classic look Available on select roman shades fabrics only
Colour SamplesOrder FormCleaning Instructions
Colour Samples: Levolor Roman Shades
Due to variations in computer monitors, we cannot guarantee the accuracy of colours presented on-screen with actual products.

10133336
Lemongrass Stripe Cream

10133337
Lemongrass Stripe Champagne

10133338
Lemongrass Stripe Mocha

10133339
Lemongrass Stripe Light Gray

10133340
Lemongrass Stripe Charcoal

20000
Hibiscus White

20311
Solar Screen (SW) 2000 White

20313
Solar Screen (SW) 2000 Offwhite

20314
Solar Screen (SW) 2000 Bronze

20316
Solar Screen (SW) 2000 Grey

20364
Solar Screen (SW) 2000 Sand

20211
Solar Screen (SW) 3000 White

20264
Solar Screen (SW) 3000 Sand

20265
Solar Screen (SW) 3000 Sand Dollar

20266
Solar Screen (SW) 3000 Espresso

29708
Expressions Vanilla

29709
Expressions White

29740
Expressions Mushroom

29706
Impulse White

29707
Impulse Peach

29735
Interlude White

29736
Interlude Black

29737
Interlude Linen

29738
Linen Natural

29739
Linen Sage
Due to variations in computer monitors, we cannot guarantee the accuracy of colours presented on-screen with actual products.

23506
Crossings Wheat Field

23507
Crossings Sycamore

23508
Crossings Mondo

23502
Rhythms Domino

23503
Rhythms Barley Corn

23505
Rhythms Yellow Metal

10133341
Tweed Rattan Champagne

10133342
Tweed Rattan Cinnamon

10133343
Tweed Rattan Mocha

10133344
Tweed Rattan Spice

10133345
Tweed Rattan Latte

29728
Woven Weaves Dunes

29729
Woven Weaves Grasslands

29730
Woven Weaves Grasslands

29731
Woven Weaves Savannah

11188204
Classic Scroll Black

11188205
Classic Scroll Frost

11188206
Classic Scroll Merlot

11188208
Classic Scroll Navy

11188209
Classic Scroll Taupe

11188261
Classic Scroll Snow

11188270
Classic Scroll Dijon

11131701
Modern Scroll Whisper

11131705
Modern Scroll Mink

11131708
Modern Scroll Toffee

11131714
Modern Scroll Sand

11131715
Modern Scroll Slate

11131771
Modern Scroll Chili Spice

11131773
Modern Scroll Everglade

29966
Olga Dune

29967
Olga Mahogany

11132230
Spring Leaf Parchment

11132235
Spring Leaf Eggshell

11132240
Spring Leaf Birch

11132245
Spring Leaf Seaglass

11132250
Spring Leaf Mist

11132261
Spring Leaf Off White

11170170
Tea Leaf Burlap

11170171
Tea Leaf Nugget

11170172
Tea Leaf Java

11170173
Tea Leaf Latte

11170174
Tea Leaf Flagstone

11170175
Tea Leaf Pewter

11170200
Designer Textures Whisper

11170202
Designer Textures Cream

11170204
Designer Textures Candlelight

11170209
Designer Textures Mink

11170216
Designer Textures Toffee

11170234
Designer Textures Navy

11170243
Designer Textures Chili Spice

11170245
Designer Textures Merlot

11170247
Designer Textures Sand

11170272
Designer Textures Mocha

11170330
Designer Textures Champagne

11170331
Designer Textures Raffia

11170332
Designer Textures Wheat

11170333
Designer Textures Fresh Green

11170334
Designer Textures Light Olive

11170336
Designer Textures Aqua

11170337
Designer Textures Marine

11170342
Designer Textures Cayenne

11170343
Designer Textures Light Gray

11170345
Designer Textures Graphite

11170801
Designer Textures Sangria

11170804
Designer Textures Espresso

11170847
Designer Textures Black

11133300
Classic Stripe Espresso

11133301
Classic Stripe Marine

11133302
Classic Stripe Port

11133303
Classic Stripe Mocha

11133304
Classic Stripe Light Olive

11133305
Classic Stripe Twilight

11133312
Satin Stripe Slate

11133313
Satin Stripe Dijon

11133314
Satin Stripe Mink

11133315
Satin Stripe Espresso

11133316
Satin Stripe Navy

11133317
Satin Stripe Sage

29935
Serinda Bark

11133318
Tailored Stripe Antique blue

11133319
Tailored Stripe Smoke

11133320
Tailored Stripe Mushroom

11133321
ailored Stripe Olive

11133323
Tailored Stripe Java

11131650
Dupioni Cream

11131651
Dupioni Sand

11131652
Dupioni Dijon

11131653
Dupioni Aqua

11131654
Dupioni Light Olive

11131655
Dupioni Champagne

11131656
Dupioni Mocha

11131607
Linen Raffia

11131608
Linen Toffee

11131615
Linen Slate

11131618
Linen Sterling

11131619
Linen Sage

11131620
Linen Light Gray

11131621
Linen Graphite

11131622
Linen Fresh Green

11131623
Linen Coffee bean

11131625
Linen Marine

11131626
Linen Champagne

11131627
Linen Cayenne

11135021
Seclusions White

11135024
Seclusions Biscuit

11135025
Seclusions Mocha

11135026
Seclusions Champagne

11135027
Seclusions Light Gray

11135028
Seclusions Graphite

11135029
Seclusions Espresso

11135030
Seclusions Sage

11135035
Seclusions Sterling

11141123
Seclusions Dijon
Due to variations in computer monitors, we cannot guarantee the accuracy of colours presented on-screen with actual products.

23506
Crossings Wheat Field

23507
Crossings Sycamore

23508
Crossings Mondo

23502
Rhythms Domino

23503
Rhythms Barley Corn

23505
Rhythms Yellow Metal

12188204
Classic Scroll Black

12188205
Classic Scroll Frost

12188206
Classic Scroll Merlot

12188208
Classic Scroll Navy

12188209
Classic Scroll Taupe

12188261
Classic Scroll Snow

12188270
Classic Scroll Dijon

12131701
Modern Scroll Whisper

12131705
Modern Scroll Mink

12131708
Modern Scroll Toffee

12131714
Modern Scroll Sand

12131715
Modern Scroll Slate

12131771
Modern Scroll Chili Spice

12131773
Modern Scroll Everglade

29966
Olga Dune

29967
Olga Mahogany

12132230
Spring Leaf Parchment

12132235
Spring Leaf Eggshell

12132240
Spring Leaf Birch

12132245
Spring Leaf Seaglass

12132250
Spring Leaf Mist

12132261
Spring Leaf Off White

12170170
Tea Leaf Burlap

12170171
Tea Leaf Nugget

12170172
Tea Leaf Java

12170173
Tea Leaf Latte

12170174
Tea Leaf Flagstone

12170175
Tea Leaf Pewter

12170200
Designer Textures Whisper

12170202
Designer Textures Cream

12170204
Designer Textures Candlelight

12170209
Designer Textures Mink

12170216
Designer Textures Toffee

12170234
Designer Textures Navy

12170243
Designer Textures Chili Spice

12170245
Designer Textures Merlot

12170247
Designer Textures Sand

12170272
Designer Textures Mocha

12170330
Designer Textures Champagne

12170331
Designer Textures Raffia

12170332
Designer Textures Wheat

12170333
Designer Textures Fresh Green

12170334
Designer Textures Light Olive

12170336
Designer Textures Aqua

12170337
Designer Textures Marine

12170342
Designer Textures Cayenne

12170343
Designer Textures Light Gray

12170345
Designer Textures Graphite

12170801
Designer Textures Sangria

12170804
Designer Textures Espresso

12170847
Designer Textures Black

12133300
Classic Stripe Espresso

12133301
Classic Stripe Marine

12133302
Classic Stripe Port

12133303
Classic Stripe Mocha

12133304
Classic Stripe Light Olive

12133305
Classic Stripe Twilight

12133312
Satin Stripe Slate

12133313
Satin Stripe Dijon

12133314
Satin Stripe Mink

12133315
Satin Stripe Espresso

12133316
Satin Stripe Navy

12133317
Satin Stripe Sage

29935
Serinda Bark

12133318
Tailored Stripe Antique blue

12133319
Tailored Stripe Smoke

12133320
Tailored Stripe Mushroom

12133321
Tailored Stripe Olive

12133323
Tailored Stripe Java

12131650
Dupioni Cream

12131651
Dupioni Sand

12131652
Dupioni Dijon

12131653
Dupioni Aqua

12131654
Dupioni Light Olive

12131655
Dupioni Champagne

12131656
Dupioni Mocha

12131607
Linen Raffia

12131608
Linen Toffee

12131615
Linen Slate

12131618
Linen Sterling

12131619
Linen Sage

12131620
Linen Light Gray

12131621
Linen Graphite

12131622
Linen Fresh Green

12131623
Linen Coffee bean

12131625
Linen Marine

12131626
Linen Champagne

12131627
Linen Cayenne

12135021
Seclusions White

12135024
Seclusions Biscuit

12135025
Seclusions Mocha

12135026
Seclusions Champagne

12135027
Seclusions Light Gray

12135028
Seclusions Graphite

12135029
Seclusions Espresso

12135030
Seclusions Sage

12135035
Seclusions Sterling

12141123
Seclusions Dijon