Pleated Shades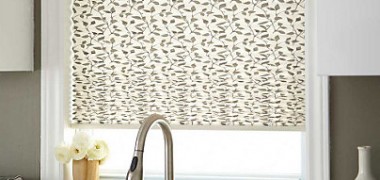 Levolor Pleated Shades are designed to complement you personal style.
Pleated Shades offer simplicity & contemporary look.
Natural Textures let you bring the beauty of the outdoors in.
Over 90 fabrics to choose from. All fabrics are mildew-resistant.
Light Control & Privacy Options
Standard Bottom Up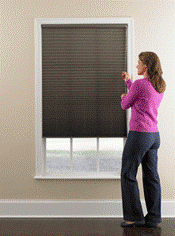 The Standard
Standard Bottom Up easily raises from the bottom of the shade. Add the award-winning cordless feature to your shade for a clean appearance free of dangling cords.
Top Down/Bottom Up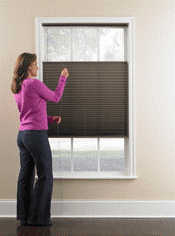 Improved Light Control and Privacy
Now you can enjoy the beauty and warmth of incoming light and your privacy at the same time. Top Down/Bottom Up allows you to adjust the top independently from the bottom letting sunlight in while maintaining your privacy.
Transformations™ (Day/Night)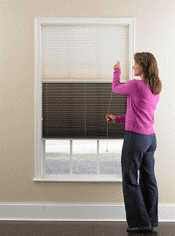 The Ultimate Shade
Transformations™ combines a Light Filtering fabric with a Room Darkening fabric to give you optimal thermal insulation. The two fabrics on one shade provide versatile light control to create the perfect ambiance or enable maximum privacy so you can relax in your private retreat.
Colour SamplesOrder FormCleaning Instructions
Color Samples: Levolor Pleated Shades
Due to variations in computer monitors, we cannot guarantee the accuracy of colours presented on-screen with actual products.

35324430
Spirit

35324431
Fawn

35324432
Mire

35324433
Halcyon

35324434
Clarett

35324435
Jett

35324436
Blush

35324437
Mulberry

35324373
Mocha

35324375
Espresso

35324438
Steel

35324439
Jett

35324440
Spirit

35324382
Buff

35324380
Mushroom

35324441
Spirit

35324442
Primrose

35324443
Carbon

35324444
Sienna

35324445
Mitasse

35324446
Sorrel

35324447
Spirit

35324448
Fog

35324449
Jett

35324450
Lineer

35324451
Circlet

35324452
Cubist

35324453
Allure

35324454
Floret

35324455
Foliole

35324456
Lineer

35324457
Circlet

35324458
Cubist

35324459
Allure

35324460
Floret

35324461
Foliole

35324462
Inspid

35324463
Hazel

35324464
Beryl

35324465
Saddle

35324466
Umber

35324467
Stone

35324468
Wheat field

35324469
Sycamore

35324470
Russit

35324471
Claret

35324472
Azhure

35324473
Mondo

35324474
Blanche

35324475
Birch

35324476
Natural

35324478
Khaki

35324479
Bronze

35324477
Brick

35324480
Gentry

35324481
Birch

35324483
Totem pole

35324484
Auric

35324485
Tundra

35324482
Reeds

35324486
Dunn

35324487
Moss

35324488
Ochre

35324489
Espresso

35324490
Slait

35324491
Jett

35324492
Oatmeal

35324493
Bice

35324494
Barley corn

35324495
Domino

35324496
Yellow metal

35324497
Finch

35324498
Spirit

35324499
Parchment

35324500
Tawn

35324501
Bister

35324502
Emitass

35324503
Cocoa

35324504
Spirit

35324505
Opaline

35324506
Abash

35324507
Sere

35324508
Ashen

35324509
Carbon

35324510
Spirit

35324511
Eclypse

35324512
Swarth

35324513
Mire

35324514
Cerulen

35324515
Niteline
Candid

35324516
Spirit

35324517
Innoc

35324518
Mire

35324519
Halcyon

35324520
Aurus

35324521
Clarett